Towards A More Democratic Future— 01.21.2021
As a relatively young person working in culture and arts, I sometimes struggle with understanding terminologies often thrown around. One such terminology is "cultural work" or "cultural worker." What in culture has to be worked on and why should a person dedicate their career in "working" culture?
I've caught glimpses of what it's supposed to mean here and there—the actual labor of engaging with culture, the capital involved in the production, and unpaid volunteer work. But I think I got closer to its definition and implications during Jejak-Tabi Exchange (JTE) co-curated and co-organized by Green Papaya in 2020.
Held in Roxas City from January 22 to 25, this edition explored the reverberation of colonial pasts in ongoing struggles and activism, and how they are articulated in theater and performance. JTE 2020 operated on various methodologies—a two-day symposium, a film screening, a performance of "Sa Digma ng Halimaw" (Monster's War) by SIKAD, and a theater workshop by MJ Apatan.
The first day of the symposium focused on the situation of culture and art in the Philippines. One of the speakers, Alejandro Deoma, narrated his experience in organizing the annual Escalante Massacre Commemoration. Every year after 1985, when the police, assisted by a paramilitary contingent, opened fire on protestors resulting in a massacre, the community and cultural workers of Escalante organized various activities to remember this bloody event. The annual activity consists of performances and mural painting, not only to remember the martyrs of 1985, but to shed light on how little has changed within Escalante.
After giving a background of cultural work in the Philippines, the second day of the symposium focused on the international exchanges between cultural workers and cultural work from neighboring countries. One of the topics discussed was the influence of the Philippine Educational Theater Association (PETA) in Southeast Asia. In the late '70s until the early '80s, PETA organized the Asia Theater Forum workshop and invited practitioners from the region to collectively unpack the region's colonial history and contemporary struggles. Speakers Muhammad Abe and Alfian Sa'at talked about the influence of these works in Indonesia and Singapore respectively.
In Singapore, attendees of the PETA workshop founded the theater company The Third Stage. Focusing on plays about social issues within Singapore, its members were later suspected of planning a "Marxist conspiracy" to subvert Lee Kuan Yew's rule in the newly established city-state. This strict censorship paralleled Indonesia's situation at that time. Under the US-backed Suharto regime, the government cracked down on two big demonstrations and enacted new laws on the arts especially within urban centers. The Indonesian attendees of the workshop launched people's theater workshops in a rural area near Yogyakarta.
The importance of exchange platforms like Jejak-Tabi Exchange is that it allows us to imagine cultural work with and for the people, as well as in solidarity with neighboring countries. In Janet Pillai's presentation on community-engaged arts in Malaysia, she emphasized the importance of agency and process which are critical tenets in the workshops by PETA and the annual Escalante Massacre Commemoration. PETA's workshops, grounded on exchanges with other Southeast Asian nations, enabled it to become a pivotal event for cultural workers and performance artists in reflecting on their own histories of colonialism and imperialism. The annual Escalante Massacre Commemoration shows how a community can grieve and reflect while continuing the centuries-old struggle for genuine land reform, especially in an island known for its sugar plantations.
In "Asia as Method," Kuan-Hsing Chen described the task of cultural studies, which could be extended into the task of cultural work, as "to deconstruct, decenter, and disarticulate the colonial cultural imaginary, and to reconstruct and rearticulate new imaginations and discover a more democratic future direction." To me, JTE 2020 provided a glimpse of that "more democratic future direction" even for a few days in Roxas City, just two months away from a global lockdown.
Yuji de Torres
January 21, 2021
More info:
https://jejak-tabi.org/roxas/

Yuji de Torres is the Online Platforms Manager of Green Papaya Art Projects. In 2016, as a requirement for his BFA Information Design degree from the Ateneo de Manila University, he interned at Green Papaya, later becoming part of their documentation team for VIVA ExCon Capiz 2018 and Jejak-Tabi Exchange 2020. He is the co-founder of Kiat Kiat Projects, a nomadic curatorial initiative.


JTE resource persons arriving at Roxas City Hall.
. Image by Yuji de Torres.

JTE co-founder Akane Nakamura entering the Audio-Visual Room of Colegio de la Purisima Concepcion, the symposium venue. Image by Yuji de Torres.
Resource person Alejandro Deoma (PH) talking about the annual Escalante Massacre Commemorative event
. Image by Yuji de Torres.
A student engaging in the discussion. Image by Yuji de Torres.
Dinner for JTE resource persons, artists and cultural workers at Water District hosted by Green Papaya. Image by Yuji de Torres.
From left to right: resource person Muhammad Abe (ID), Alfian Sa'at (SG), and JTE co-curator Helly Minarti, moderating (ID)
. Image by Yuji de Torres.
"Sa Digma ng Halimaw" (Monster's War) a political theater presentation by SIKAD at the Gerry Roxas Convention Center. 
Image by Yuji de Torres.

From left to right: moderator Amy Lien (US), resource persons Wichaya Artamat (TH), Janet Pillai (MY), and Miku Sato (JP).
 Image by Yuji de Torres.
Resource persons and artists at the favorite hang-out place Wayfarer at Baybay beach. Image by Yuji de Torres.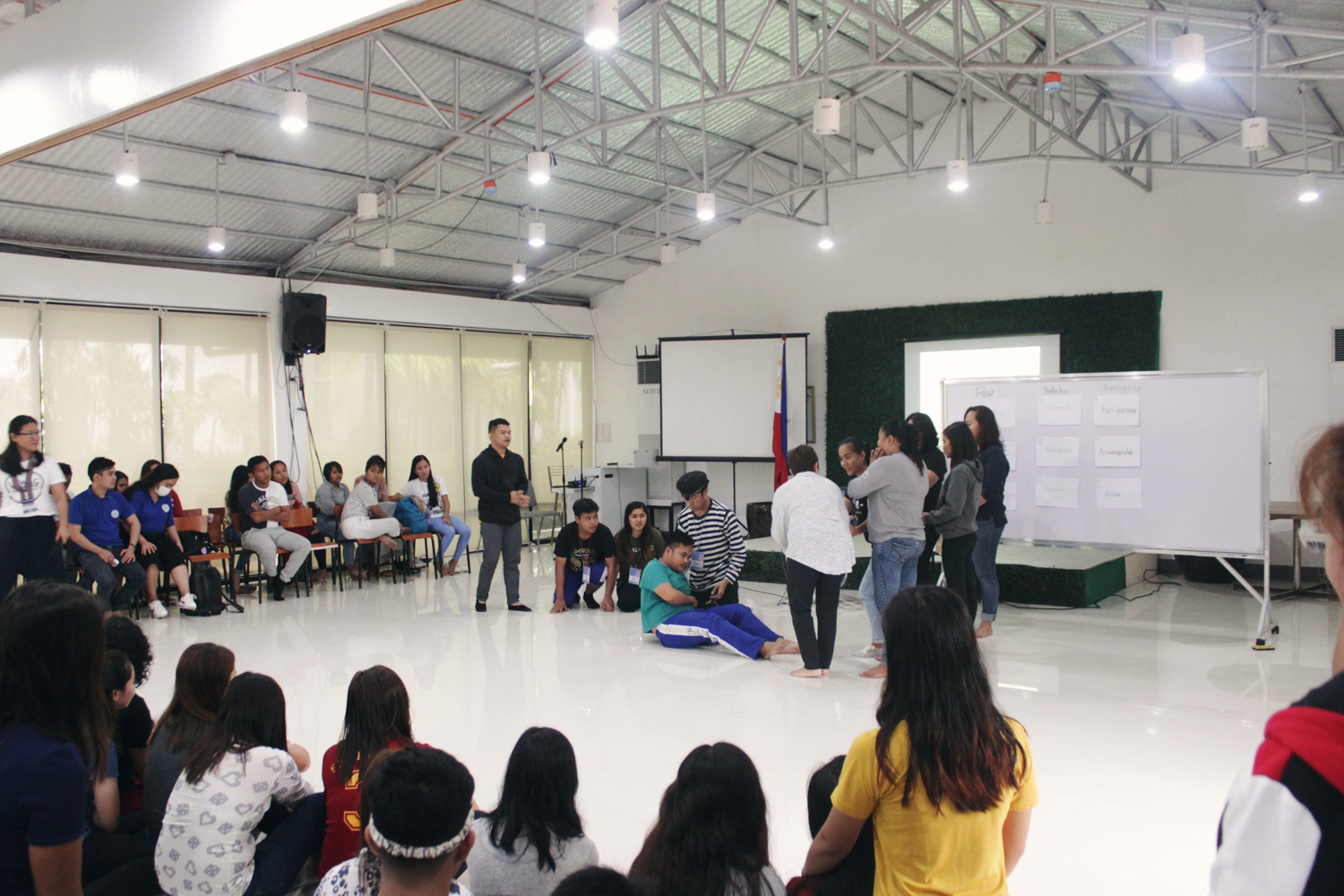 Participants of "Morforsis," a theater workshop conducted by MJ Apatan, at the Gerry Roxas Training Center. 
Image by Yuji de Torres.
JTE resource persons at the front of the Roxas City Tourism Office.
 Image by Yuji de Torres.