Storm Signal — 07.23.2020

Green Papaya has its own share of frustrations, some of which stem from a few unrealized projects. We have long been wanting to immerse in grassroots communities not only to open up co-learning opportunities but to make art more relevant to them. One of our failed attempts was the Storm Signal Community Outpost.
Discussions about the Storm Signal project came after tropical storm Ondoy brought heavy rains and flooded the whole of Metro Manila for several days in September 2009. But its concept paper was only developed and formulated after Papaya became a partner organization of the US State Department's smARTpower Program in 2012.
smARTpower, administered by the Bronx Museum, sent 15 selected American artists to 15 cities in Asia, Latin America, Africa, and Eastern Europe to interact with grassroots communities. Mary Mattingly, whose art practice is grounded on social issues with particular interest in temporary settlements and nomadic culture, was sent to the Philippines. Mary's specific inquiry addressed the political and social issues this country continues to face such as poverty, local migration (to cities), and informal/mobile settlers – the sector most vulnerable to natural disasters given the nature of their habitats. Based on a study, Quezon City has the highest concentration of informal settlers in Metro Manila. Papaya is located in Barangay Kamuning, an old densely populated district, which brings the issue close to heart.
The Storm Signal Community Outpost was envisioned to be a temporary facility organized to respond to tropical storms, heavy rains, and flooding during the typhoon season. It aimed to promote disaster preparedness and response through education, publications, workshops, and volunteerism. This pop-up outpost was to be based in Papaya's Kamuning space where volunteers would be called to report for duty once PAGASA declares signal #1 in Metro Manila. The outpost was also intended to be a soup kitchen and coordinating center for disaster response within a 1-kilometer radius from its base.
A rethinking of what a public space should be underpinned the idea of converting Papaya's space into a nerve center for collective actions involving volunteer artists and cultural workers in times of crisis and conflict, and contributing to the prevention of the devastating effects of natural disasters.
While the Japan Foundation-Manila Office initially expressed support for Storm Signal, we got distracted by a bigger disaster - the super typhoon Yolanda, which devastated the Visayas in 2013. In the aftermath, I personally wanted to bring relief to Capiz. So, I formulated an even more ambitious project - Design for Villages (D4V), which became another failed attempt. More on D4V in another anecdote.
Norberto Roldan
July 23, 2020
Mary Mattingly's workshop guide questions. Photos courtesy of Jed Escueta, October 2012.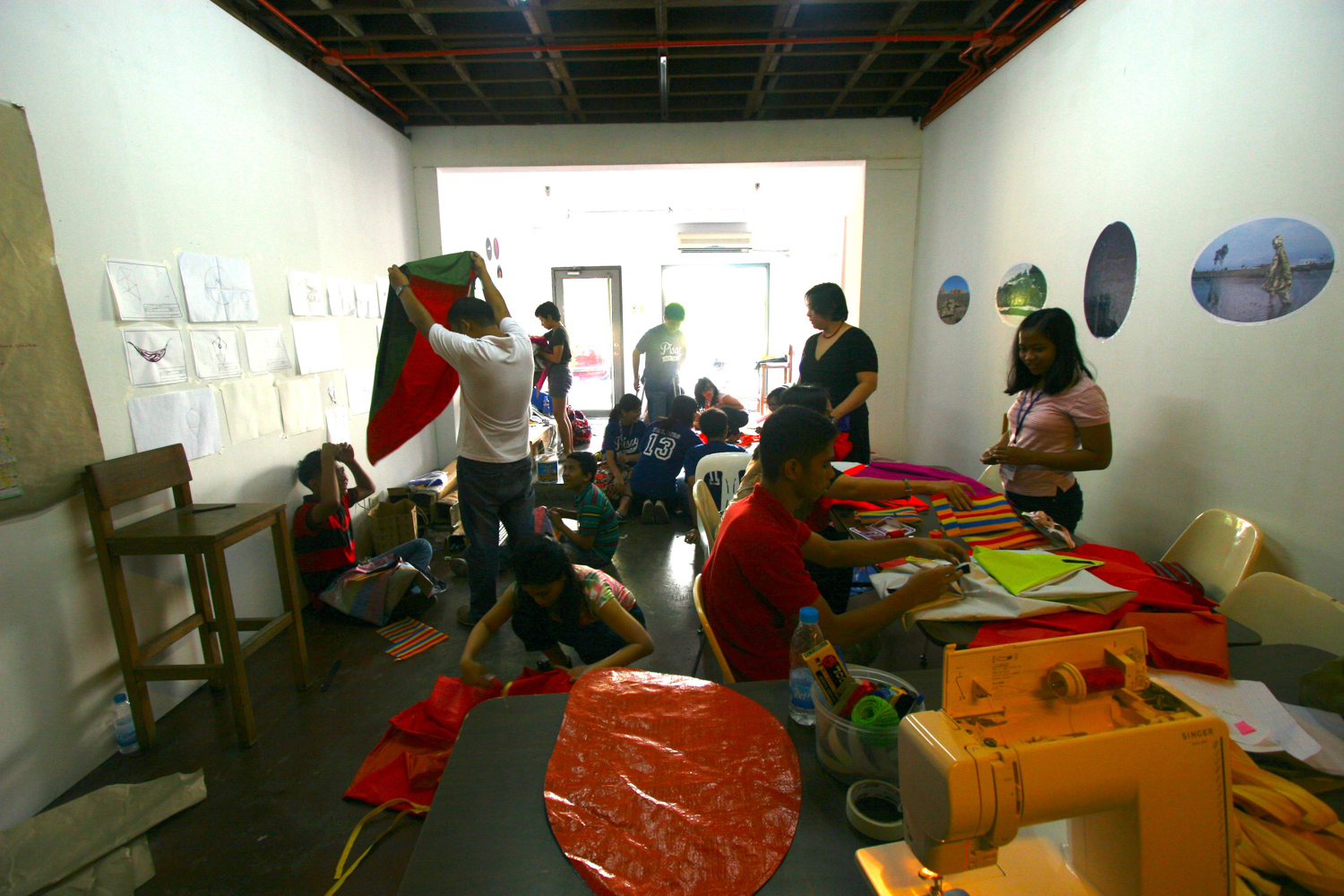 Workshop participants, including students from Quezon City Highschool (QCHS) working, at Papaya's Kamuning space.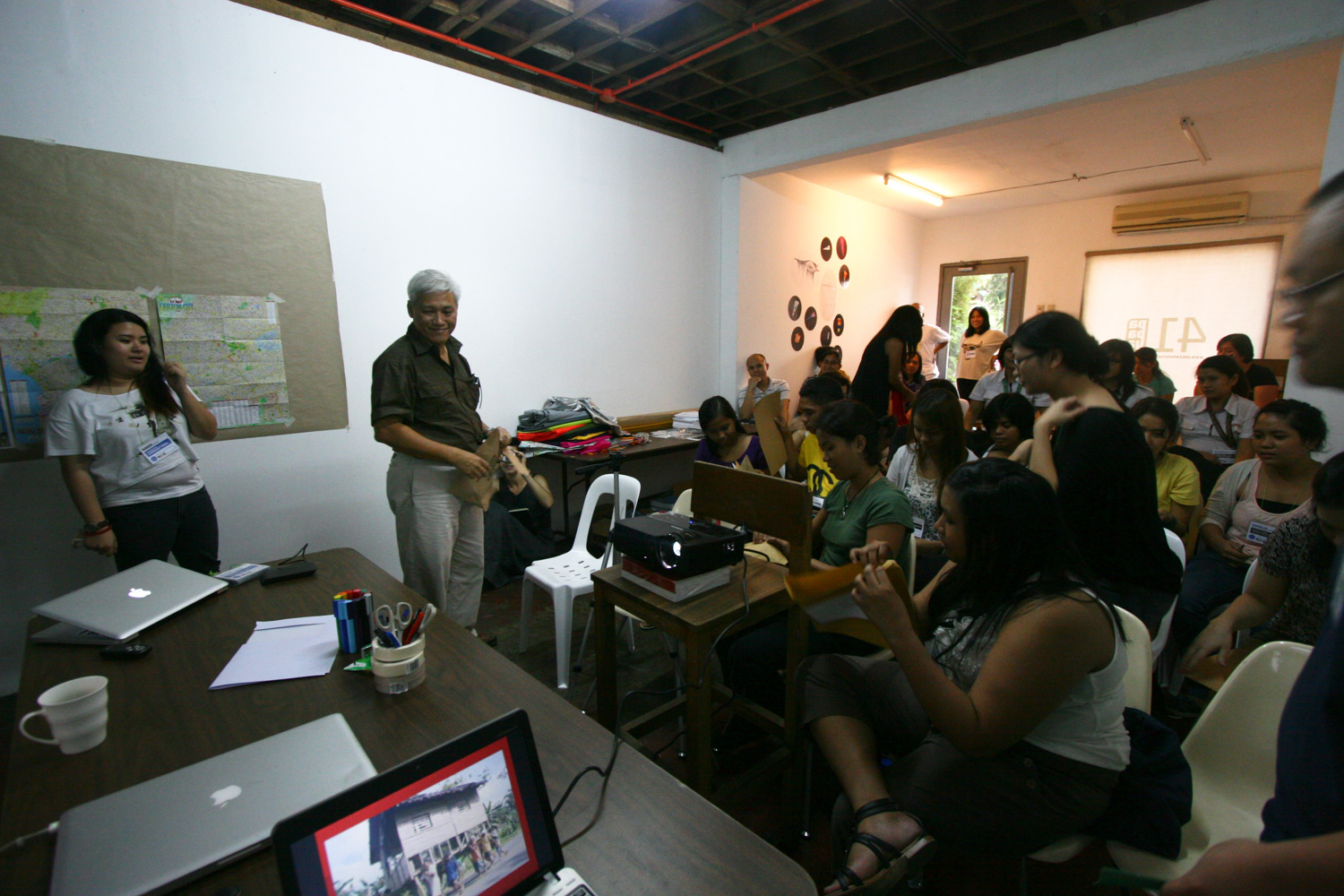 Architect Paulo Alcazaren giving a talk at Papaya Kamuning.

Workshop participants.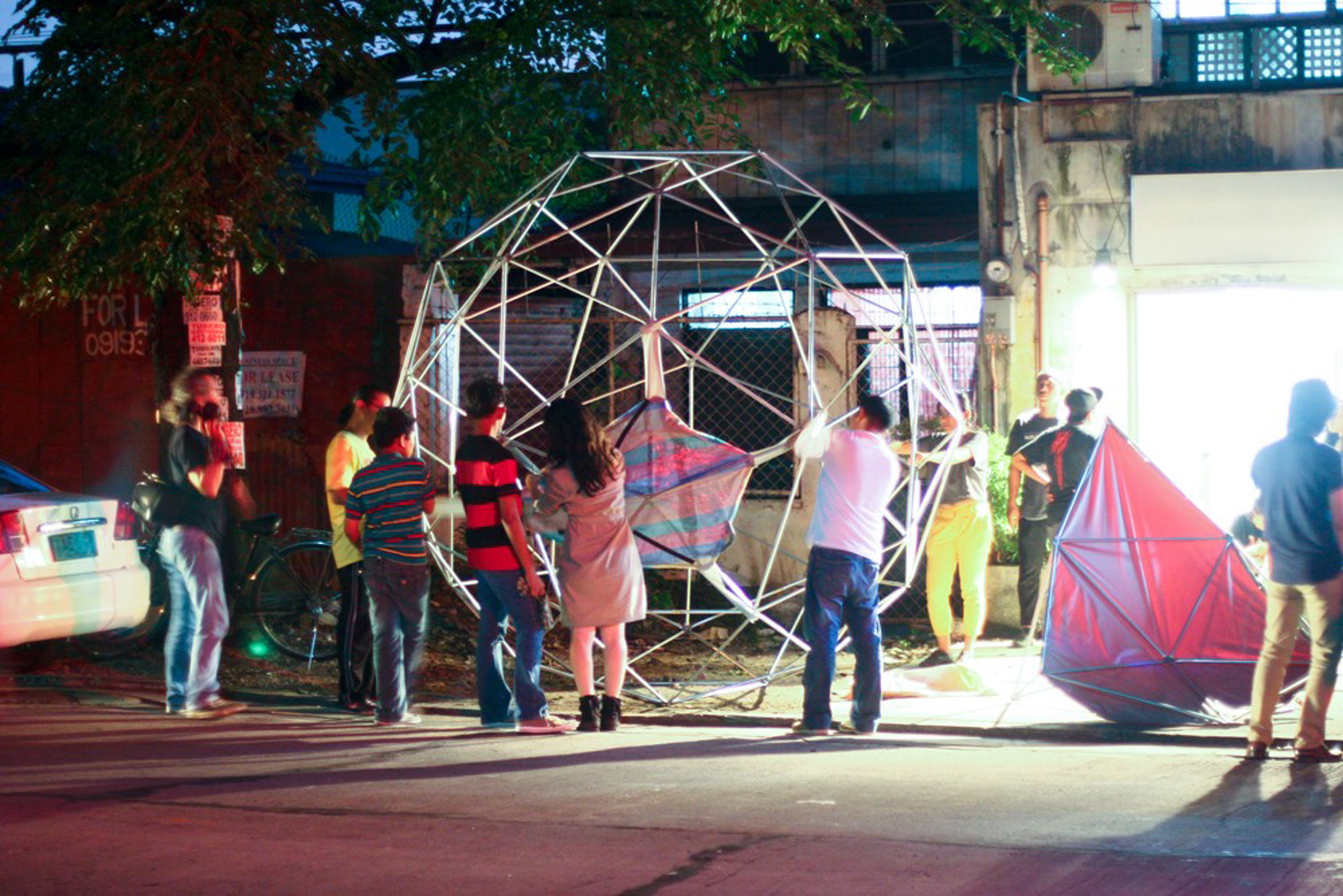 Group work on the largest workshop prototype.

Bayanihan of one of the workshop prototypes to QCHS for a temporary installation.
Exhibition setup.

Vernacular design inspiration, Las Piñas-Parañaque Critical Habitat (LPPCH).