On Storm Chasing and Biennales (A Perspective)— 04.22.2021
How do you realize that you are in the eye of the storm? Is it when you're already being thrown around by strong winds? Is it when you're scouring for whatever life raft you can cling onto? What happens when you finally realize you're in its midst? How exactly do you describe it in a thousand words or less?
TL;DR: #blessed #noregrets
I was randomly invited by Merv to partake in VIVA ExCon at some opening at the Cultural Center of the Philippines (CCP). I was, however, only officially considered for the position after a 5AM drunken marathon of asking Peewee awkward questions about his practice. This is in no way a recommended method of getting projects as there is a threat of being blacklisted; but, for better or worse, it worked.
Next thing I knew, I was at 98B facilitating a meeting with possible collaborators. The consultation went smoothly and within the set timeframe. Everyone was happy with how quick it went, and I was happy to see familiar faces.
Eventually, my life shifted to spending afternoons at Rallos as soon as my day job at the family business ended. I was usually welcomed with a joke from Apid; then proceeded to having coffee with Merv and Peewee as we divided the work for the night. This went onto a hearty dinner; the ritualistic setting of the pillow and blanket on the brown couch in case I slept over, which never happened except for a few naps; the all-night whirlwind of half-crying, half-laughing, and general full-on panic; the 2AM whisky, food, and internet breaks with Joaquin sporadically playing his guitar; and, finally, seeing the teenager off to school at 6AM, which also became my signal to go home. This continued for every programming session and grant application — arguably successful with one rejection to date.
After three major workshops, quick research visits to five provinces (shout outs to W, Peter, Melanio, Olive, Philip, and Archie!), several wanted and unwanted advances, lost friendships, endless negotiations with institutions for permits, the countless iterations of FB group chats, internal fights that led to almost quitting, and the allegation of being a "sower of intrigue," we went on to a month-long stay at Punta Tabuc in preparation for the event.
I shared a room with Marika and Lesley-Anne. With these women, I burned my lungs constantly as we talked about every issue that we collectively and individually went through. What were murmurs to people in the house were howling exchanges and bursts of tears to the walls of that balcony. We went back to the kitchen each evening with no resolutions but with steady hands that held our Gold Eagle beers.
I remember being grateful that Mama comes from Negros because I understood things when people talked even if I didn't speak the language. I remember staring at my Excel sheet of 500+ participants, inadvertently memorizing everyone's food allergies and arrival times, and panicking when the volunteer accidentally changed the country of origin of a participant in one cell. I remember not having any volunteers then suddenly having three. I remember finance meetings and almost making people cry. I remember Mayumi sharing the snacks for her son, Yoji, as I finished doing reimbursements for the artists. I remember catching JK having a conference call in the bathroom at 5AM as I was also trying to begin work before the actual day started. I remember breaking down as early as my first cigarette and coffee; and being presented with choices: lock myself in the room until I was ready to face the demon of the day, take comfort from beers during lunch, or let it go. Always, however, decisions came punctuated with a hug.
I remember the endless troubleshooting, which reminds you that you can't fully plan anything. I remember being thankful that nothing lasts forever even if the end is nowhere in sight.
I remember my phone ringing continuously as I changed into my dress for the opening (because you have to be cute even when you're dying inside). I remember dancing to the iPhone ringtone instead of answering the calls because why not. I remember running the length of the city hall with make-up and my floor-length dress because we did not have walkie talkies, and someone had to signal Joee to start her march with the band — a performance organized by HERESY and Chesca.
I remember the last night at Espacio Verde when I could barely sit down because everyone had questions about getting home. I remember my white dress trying its hardest not to attract stains as I devoured every spoonful I could get.
I remember hanging out and laughing with Lesley-Anne, Marika, Touki, and Neo near the sea before leaving for Manila.
The biennale itself remains blurry, which I know was far from perfect. I know that I did not get to attend any of the conference days because I was stuck in a stuffy storage room without windows. I know I woke up on the second day after napping in the "war room" with empathic looks, sweets, and cigarettes from Eileen, Mary Ann, Lisa, and Rica — which was, in hindsight, morbidly funny.
I deliberately did not attend the post-festival assessment. I said I had work to catch up on, which wasn't really a full lie. I locked myself in my room for days afterwards — moments that Paolo, Mian, Sidd, and Aesop can attest to.
I think the only way to write about the eye of the storm is not to remember every single detail that occurred. Memory, it seems, saves your sanity by allowing you to forget. All I'm sure of is that I did not survive the storm alone. Instead, I had the kindness of people who have hopefully forgiven those very stark and embarrassing mishaps, and friends…who have recognized my mistakes, have rolled their eyes to death over it, have momentarily given me drinks and cigarettes even if they hate my vices, and have continuously prayed to Jesus that I won't ever do this again.
Iris Ferrer
April 22, 2021
Iris Ferrer was the Managing Curator for VIVA ExCon 2018. She is an independent cultural practitioner who continues to work with Green Papaya Art Projects because, in a very dysfunctional way, it has become family.
Touki Roldan working in the office of the VIVA ExCon 2018 headquarters at Punta Tabuc. The Punta Tabuc headquarters previously housed the Roxas Metropolitan Water District Office. Photo courtesy of Iris Ferrer.
The headquarters faces the massive Iglesia ni Kristo church being constructed at the time. Image from the Green Papaya archives.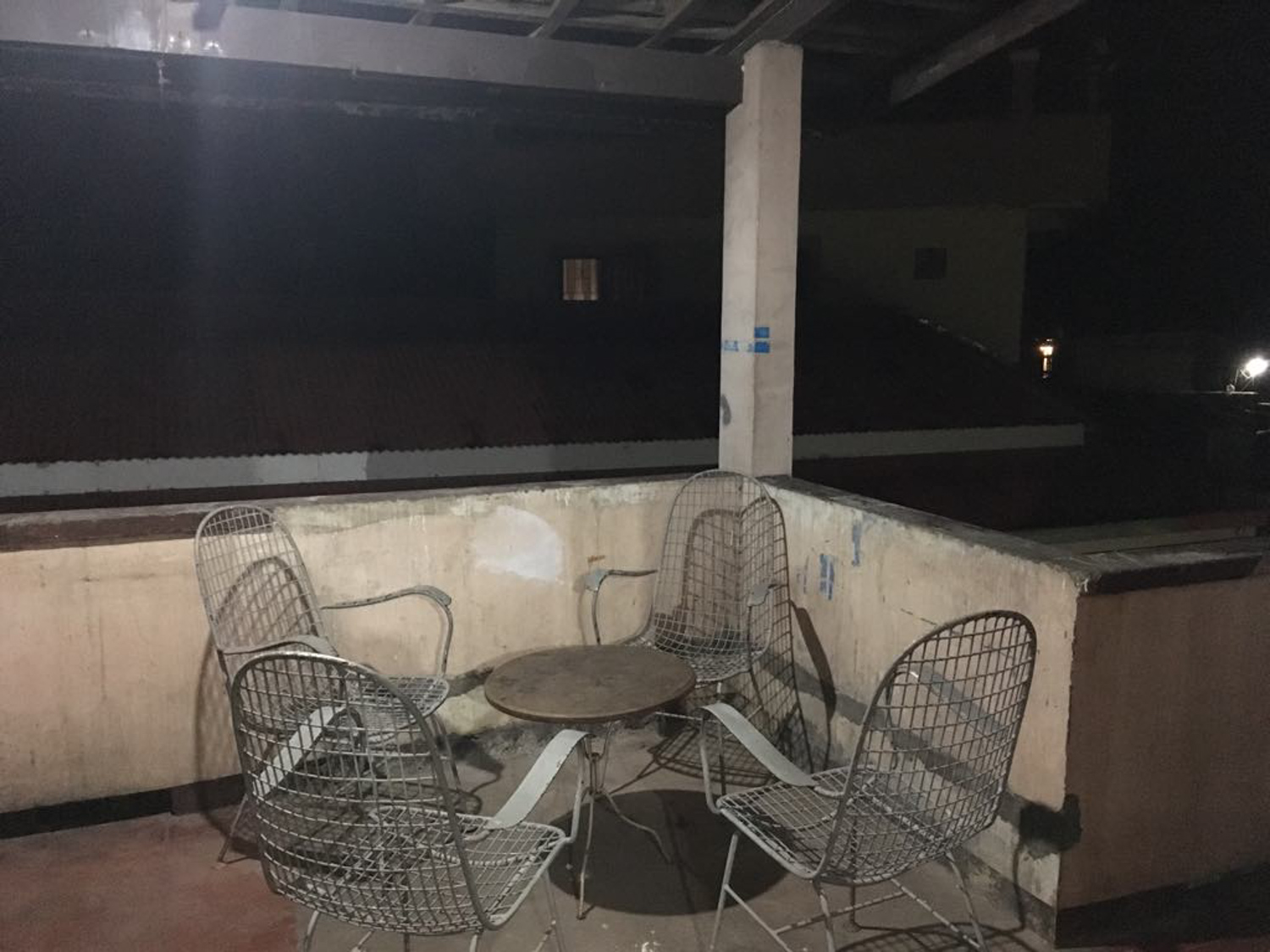 The balcony / smoking area at the Punta Tabuc headquarters. Photo courtesy of Iris Ferrer.
The balcony is right next to the kitchen of the house. Image from the Green Papaya archives.
People working on Lizza May David and Gabriel Rossell Santillán's installation "How many seas will you swim?" (2018) that was part of the "Bisan Tubig Di Magbalon" exhibition at the Civic Center. Image from the Green Papaya archives.
The Barangay XXX collaborative painting projects temporarily stored at the Civic Center pre-installation. Photo courtesy of Iris Ferrer.
People working on the turtle stage that was part of Tatsuo Inagaki's project "Balay Sugilanon" (Story House) mounted outside Ang Panublion Museum. Image from the Green Papaya archives.
People working on "Da Striker (after Typhoon Yolanda 2013" (2018), an installation by Diokno Pasilan (in collaboration with Santiago Alvarez and Omel Artates) for the VIVA ExCon 2018 main exhibition "Bisan Tubig Di Magbalon" (Don't Even Bring Water), at the Civic Center. Photo courtesy of Iris Ferrer.
Paintings submitted for the "Dagat Kag Dagway" (Seascapes and Horizons) exhibition being installed by Apid Jiloca at the Civic Center. Image from the Green Papaya archives.
The Roxas City Mapping Project that was part of "Abút: Paseo Project", curated by Mark Salvatus and Philip Sinajonon, staged at the Paseo Cathedral. Image from the Green Papaya archives.
Pre-VIVA ExCon 2018 discussions in Roxas City, October 2017. Image from the Green Papaya archives.
Pre-VIVA ExCon 2018 discussions in Roxas City, October 2017. Image from the Green Papaya archives.
Neo Maestro manning the Zine Fair booth that was at the Gerry Roxas Training and Convention Center from November 9 to 11. Image from the Green Papaya archives.

VIVA ExCon 2018 post-event meeting at Green Papaya Extension in Quezon City, 25 November 2018. Photo courtesy of Iris Ferrer.