Beauty + Pain— 03.18.2021
In 2003, Papaya was the project coordinator for "PLEASURE + PAIN" — an exhibition curated by Norberto Roldan and Cath Bowdler featuring Roldan, Nona Garcia, Jose Legaspi, Robert Nery, and Wire Tuazon. It was first staged at Papaya's 124A Maginhawa St. space from June 14 to June 18 before traveling to 24HR Art - Northern Territory Centre for Contemporary Art in Darwin, Australia where it was open from July 18 to August 8. The text below is co-curator Cath Bowdler's curatorial statement first published in the exhibition catalogue.
---
I first met Norberto Roldan in Manila in 2001. At that time I was there working on the Kawing project and experiencing first hand, the Filipino contemporary art scene. I was taken by Brenda Fajardo to an exhibition called "RX Critical Remedies" curated by Joselina Cruz at the Lopez Memorial Museum. It was a show by Norberto Roldan and Nona Garcia, in which Roldan's installation, that dealt with notions of faith healing, was counterpointed with Garcia's lyrical representation of the rituals of Western medical science. It was a beautiful and poignant show that, straight away, I wanted to see exhibited at 24HR Art in Darwin.
In the last few years, there had been an ongoing dialogue and a growing connection developing between Filipino artists/curators and Northern Territory (NT) artists/curators. 24HR Art had had an interest in cementing relationships with organizations, artists, and centers in the South East Asian region for some time now. The Kawing project saw 24HR Art and Asialink in partnership supporting four NT artists to go to regional centers in the Philippines. In 2002, Norberto Roldan came to Darwin to participate in the "Ignite" series of curatorial workshops in his role as a curator at Green Papaya Art Projects in Manila. The exhibition "PLEASURE + PAIN" was developed out of these initiatives and the desire at 24HR Art to evolve international shows with major artists from the Asia Pacific region. I felt these dialogues and developments would be of lasting benefit to both as the connections became more sustained and layered.
"No other nation in South East Asia has been so dramatically shaped by the dual forces of the Enlightenment and Catholicism as the Philippines." [1] The "RX Critical Remedies'' exhibition encapsulated these notions succinctly. The subtext for me, however, was a dialogue between beauty and pain or rather pleasure and pain. Both works were about responses to disease and both called upon beauty and the human need to believe in something in times of stress or illness. Norberto Roldan's response referenced traditional belief systems where Christianity and folk healing rituals converge in a hot, wet world of symbolism and magic. This installation, like much of Roldan's work, can also be seen in the light of colonial critique. Nona Garcia's work was cool and restrained by comparison. The precisely rendered paintings of wrapped surgical instruments suggesting concealment and detachment, two hallmarks of the Western medical approach to disease. To the outsider, the exhibition might have suggested the collision of worlds and a dialogue between the old world and the new. However it wasn't a collision. It was a co-existence: a particularly Filipino worldview of accepting a hybridized world where richness, fecundity, and magic butt up next to the Western world of clinical precision and order.
The initial idea for "PLEASURE + PAIN" developed from that show in Manila. Norberto Roldan further developed the curatorial rationale and selected artists who were exploring a particularly Filipino approach to pain and pleasure.
This exhibition locates the work both in Filipino contemporary society and also in the body, the specific and the universal. As the '70s pop song by the Australian band The Divinyls says, "There's a fine line between pleasure and pain…", and so it is. The notion of pleasure and pain represents anything but a binary opposition like light and dark. Pleasure and pain are more like two aspects of the same thing, Janus-faced: entwined, enmeshed, moving along the same knife-edge. Scientists have recently found that pleasure and pain activate the same part of the brain… but we didn't need the scientists to tell us that.
In this exhibition, locating pleasure and pain in the body conjures up notions of desire, guilt, disease, (dis)ease, horror, and redemption, all of which are represented here. Locating pleasure and pain in contemporary Filipino culture presents us with an overlay of Catholic religiosity and post-colonial critique. Its manifestations are at times both violent and visceral.
I am reminded of Bernini's sculpture of St. Theresa that depicts the saint in an ecstatic state of transcendental bliss as she is pierced by the arrows of the Lord, the perfect expression of pleasure and divine pain registered on her face.
There is quite a bit of piercing of the flesh in this exhibition in the works of Nona Garcia (in absentia), Jose Legaspi, and Robert Nery. There is also a lot of pleasure in these works, as well as those of Norberto Roldan and Wire Tuazon.
Pain and pleasure are our most basic responses, at once universal and personal. George Bataille stated that religion, violence and sacred horror are linked in a twisted relationship: "At the heart of beauty is blood and terror." [2] This is what we are afraid of.
Cath Bowdler
2003
[1] Laura Fan, "Tracing Faith and Fact", "RX Critical Remedies" catalogue, 2001.
[2] Quoted Lynne Seear, "Jose Legaspi — Mother, Utopia, Burning House", APT Catalogue, 2002.


Cath Bowdler is an arts administrator, curator, and academic who has worked extensively with Indigenous and non-Indigenous communities and artists over the last 20 years. She is an arts professional who is passionate about cross cultural arts and community engagement.
"Pleasure + Pain" exhibition catalogue designed by Norberto Roldan. All images are from the Green Papaya archive.
Installation shot of works by Wire Tuazon (foreground), Norberto Roldan (back wall), and Nona Garcia (left wall) at 24HR Art, a former cinema house in Parap, Darwin, Northern Territory.
Installation shot of Jose Legaspi's "Equinox" at 24HR Art, chalk pastel on paper (5 panels), 2003.
Two of 16 first aid boxes from Roldan's installation "Boxed", assemblages with various found objects, 2003.
Installation shot of Robert Nery's "Black Nazarene" (1999-2003), video on single monitor with enlarged still digitally printed on textile by Gabrielle Finnane.
Installation shot of Nery's "Black Nazarene" at Green Papaya. Also shown in the photo is Garcia's installation at the far end of the gallery.
Detail of Garcia's "Recovery Room" (2003; iteration), installation with operating table, wrapped surgical instruments on acrylic shelf, and video.
Installation shot of Garcia's "Recovery Room" (2001; iteration), shown along with paintings of wrapped surgical instruments, for the exhibition "RX Critical Remedies" at the Lopez Museum curated by Joselina Cruz.
Installation shot of Roldan's "Faith Healing" for the exhibition "RX Critical Remedies" at the Lopez Museum curated by Joselina Cruz, 2001.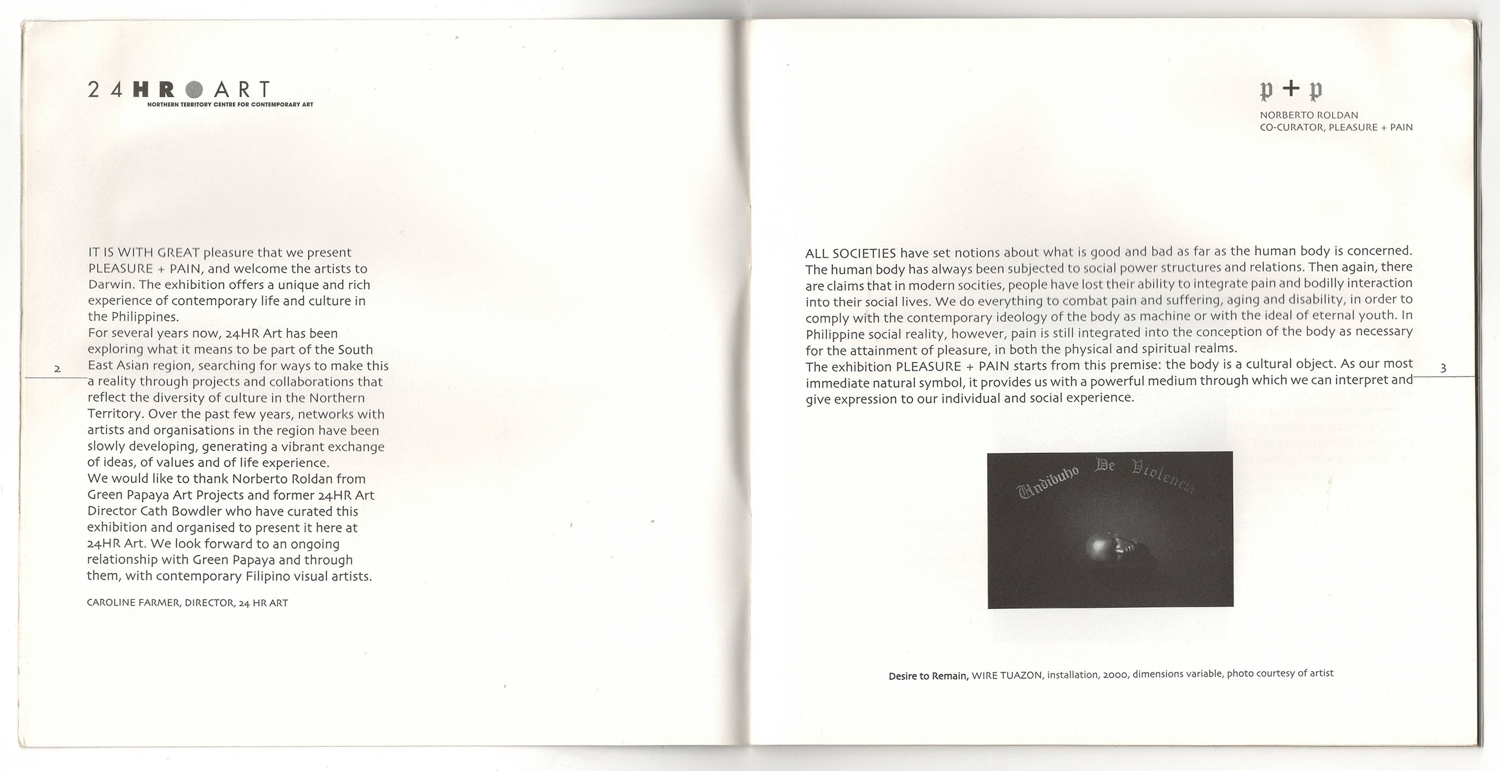 Two pages from the "Pleasure + Pain" catalogue, with introductory note (page 2) by 24HR Art director Caroline Farmer and a short curatorial note (page 3) by "Pleasure + Pain" co-curator Norberto Roldan.